With the Spring LCS Finals, 2022 weekend also comes the MSI Group Draw 2022. The Mid Season Invitational is always an exciting time for League fans from all around the world. The number 1 seed from 11 different regions will all come together and play to give us a taste of who is best and to start the build-up to Worlds.
So what teams are heading to Busan, Korea and who will they be matched up against?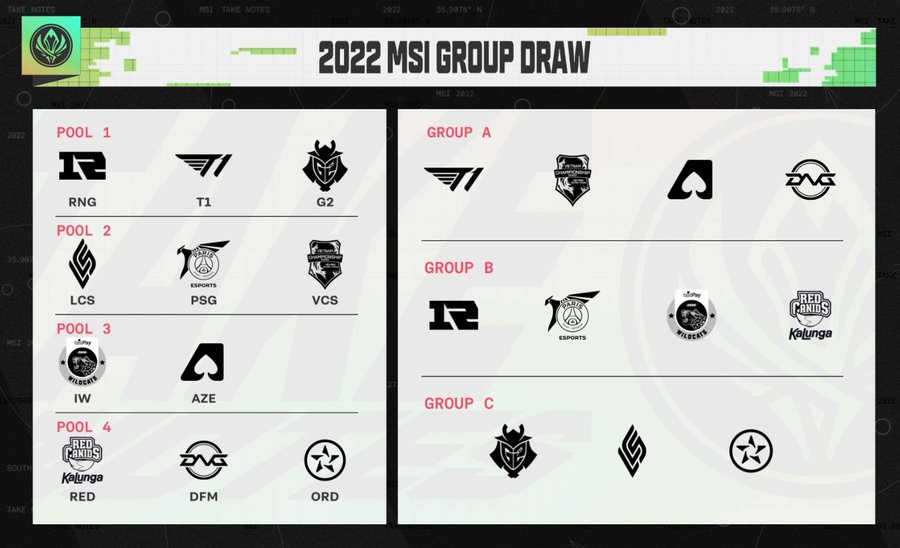 Group A has quite possibly the best team to ever grace the rift in T1 from the LCK. Joining them will be Saigon Buffalo from the VCS, Team Aze from Liga Latinoamérica, and finally DetonatioN FocusMe from the LJL. T1 should be clear favorites to advance with the other three having a closer battle. In the end, I think the familiar face in DetonatioN FocusMe will be the other team to make it out of Group A.
Group B looks to be a fun one as we have Royal Never Give Up from the LPL, last year's MSI winners, and PSG Talon who took third in last year's tournament as well. Those two teams are the clear favorites to make it out of Group B but both the Istanbul Wildcats from the TCL and RED Canids from CBL will try and make some upsets happen.
Group C looks is one of the West with both Evil Geniuses from the LCS and G2 from the LEC looking to face off and will likely take the two qualifying spots but we shouldn't count out the ORDER from the LCO who will try and knock down one of either NA or EU on their way to qualify.
With the MSI Group Draw 2022 completed all we have left is MSI itself. The Tournament will start on May 10th and last all the way until the finals on May 29th. So we will have a fun couple of weeks with the best League of Legends teams from all around the world. We can't wait to see who comes out on top and what amazing rivalries form.